IKEA provided us with some of the most beautiful and practical options for our homes, making them a haven for life hackers. Their Kura bed collection for example, is a great alternative for parents looking to spruce up their children's room without having to spend thousands of dollars. If you're looking to use IKEA products to remodel your kids' bedrooms, then this post is for you. We will feature some of the most awesome IKEA Kura beds ideas.
Turn the IKEA Kura bed into something magical and play with your kids' imagination by making a minimalist castle bed. Plus side of this is it's easy to setup and maintain.
If you have a beautiful pattern on your wall, you can easily repeat those patterns to your kid's IKEA kura bed to make it blend in with the room nicely.
Again, allow the bed to blend in to the environment your kid wants to have. You can cover the sides of the Kura bed with wallpaper scraps and make a cozy nook underneath.
Stay consistent with the colorful environment. Use different soft colors for the bed for a fun and cozy bedroom for the teens.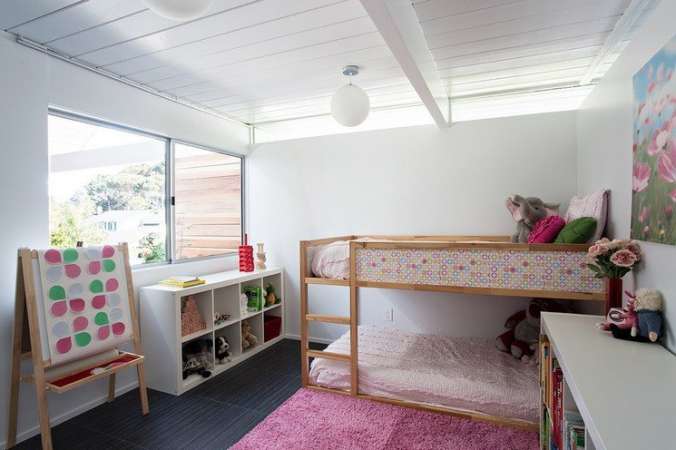 You can never go wrong with IKEA kura beds for your mid-century kids' bedroom. Perfect for daughters sharing a bedroom.
If you already have a beautiful interior design, you can easily modify the bed to fit it nicely, such as in this one.
Multiple IKEA Kura beds are the most practical and fun ways to set up a bedroom for shared kids. You can even use the bed as part of their playroom.
Kura beds can be modified easily to fit in awkward spaces and niches. Push them to the corner and save a lot of space in your kid's bedroom.
IKEA Kura beds are also great next to a painted wall. You can keep the décor consistent. For example, if it's a farm art painting, then choose farm patterns such as cow print for the blanket, etc.
You can never go wrong with colorful patterns as well, such as chevron patterns for the wall of the bed.
Keep every inch of your child's bed space functional by using multi-functional furniture, such as this Kura bed with desk.
Lighten up the mood of the bedroom by using some colorful lantern bulbs and Christmas lights. Everybody loves Christmas lights.
For little girls who love to play house, you can convert the Kura bed into a playhouse. Complete it with windows for a realistic feel for your kids.
Sometimes, you don't need a colorful bed, especially for an already colorful bedroom. A simple, yet beautiful all-black Kura bed can do the job.
Or you can make the house look like a tree house such as this one. Paint it with white and make accent colors pop up.
Another simple but beautiful IKEA Kura bed. Notice how they barely decorated the bed (except for the buntings) and just placed a mattress and added some soft and comfy pillows.
Natural wood finish will never go out of style. This classic design will always remain pleasing to the eyes, even in simple and modern bedrooms.
Source: https://creativedesign.tips